Winter Meeting: Saturday 9th February 2019
RAF Club Piccadilly, London
"Flying without wings"
The decision was made to return to our traditional format for the winter meeting. The result was an extremely successful one day meeting at the RAF Club, organised by our Secretary Dr Ian Donnan. The turnout was better than expected and included a welcome number of new members and guests.
Following an introduction by our President and Chairman of the morning session, Dr Andrew Partner, the first paper was given by Mr Richard Duffy, "Drones for Good?". Richard works for the charity Nesta and is undertaking research on the use of drones in the urban environment. As such, he is highly qualified to describe the current regulations for flying drones and other remotely piloted aircraft systems. Currently the Drone Code specifies that flight must be under 400 feet, within visual sight of the operator, at least 50m from people or property and more than 1km from airfields. Clearly changes are needed following the recent problems at Gatwick airport and police powers need to be reinforced.
Members were surprised to hear that there are now over 5,000 commercial operators of drones in the UK whose activities include de-icing wind turbines, building inspections, monitoring constructions, delivering life rafts as well as many other diverse activities. Future developments may include medical applications such as the delivery of medical equipment, drugs, blood, organs for transplantation, pathology specimens and reports. Clearly, with the increase in drone traffic that may be expected in the future, there will be a need for it to be managed and regulations to be tightened, in liaison with ATC.
The second speaker was Mr Sean Leahy, "Tracks in the Sky". Mr Leahy is Senior Aerial Survey Specialist with Network Rail. As such he undertakes helicopter-borne surveys of the entire UK rail network and its infrastructure using extremely sophisticated equipment. This equipment includes ultra-high resolution, gyro-stabilised cameras (still and video) sensitive to a range of frequencies, including UV and IR. These are capable of inspecting individual nuts and bolts from 2,000 feet. Advantages of these surveys are that inspections can be undertaken without closing services and whilst electrical circuits are still drawing power. This means that 'hot spots' can be revealed more easily by the IR cameras and short circuits sparks by UV.
Future developments being investigated are UAVs capable of being operated beyond visual lines of sight and hyperspectral imaging. The latter will be capable of detecting hidden watercourses, chemicals such as asbestos in the ground as well as identifying moribund trees before there are visual signs of disease.
After an excellent buffet lunch provided by the RAF Club there were two further speakers in the afternoon. The first of these was Mr Chris Davies, "Magic Adventures Under a Warm Bag". Chris is a full-time owner/operator of a balloon company offering flight experiences in the Peak District, Sheffield and Nottingham. However, after a brief introduction to the various types of balloons (hot air, hydrogen, helium) the main basis of his talk was his experience of flying balloons in many countries of the world, some of which are very remote.
Access to some countries, difficult terrain and extremes of weather are all entail problems that he has overcome. He has currently flown in 106 countries and hopes to beat the world record of 118 countries. But, as he said, this target is increasing at almost the same rate as he approaches it! The photographic record of his (and his wife's) experiences left his audience enthralled.
The last speaker of the day was Mr Colin McAllister, "The Digital Window". Colin is a Training Consultant at the Met Office and has been involved in aviation weather forecasting for more than 20 years. He gave a highly informative and entertaining review of the range of equipment available to forecasters today. These include radiosondes (first flown in Russia in 1930), satellites, radar and argo-floats. Together, they provide over 38 million observations per day. Radiosondes can ascend to very high altitudes and transmit data on wind speeds, temperature, etc at many different levels. By entering temperature and dew-point on a tephigram chart, Colin showed how the heights of cloud base and cloud tops can be calculated. Depending on the wavelength of detectors, satellite based systems (geostationary and polar-orbiting) can observe and distinguish weather systems, cloud, rain, snow, etc. Radar systems are able to calculate rainfall rates, and with dual polarisation, droplet shape and size. The new argo-floats can record not only temperatures but also salinity, oxygen levels, carbon dioxide concentrations and light penetration in oceans down to 2,000m. The next generation should be able to reach depths of 6,000m.
Academically, this was one of the best meetings in recent years and the BMPA is most grateful to the speakers for giving their time to prepare and present their work.
However, the day was not over with the completion of the scientific programme. Dinner in the evening provided members and guests with the opportunity to meet, mix and enjoy a sumptuous meal in the august atmosphere of the RAF Club.
Summer Meeting, Cambridge.
13th – 15th September 2019
Once again members and their guests enjoyed a very convivial weekend with perfect weather conditions, both for those flying to the meeting and also for enjoying the outdoor activities. As an innovation, our President-elect and Secretary organised a special event for the Friday evening. After a gentle stroll from our hotel, along the river bank to Magdalene College, we had a guided visit to the Samuel Pepys Library. Here, his library of exactly 3,000 books are displayed in his original book shelves. The volumes are arranged precisely in the way that Pepys had them, in strict order of size! Whenever he acquired a new book, he had to dispose of another so that he always had 3,000 books. He appeared to have all the symptoms of obsessive compulsive disorder!
This was followed by a candle-lit dinner in the sumptuous fellows dining room where we enjoyed excellent food and wine.
The following morning we were led by one of Cambridge's official guides on a walking tour of Cambridge. This was both informative and entertaining. We learnt much about the history of several of the colleges as well as the work of some of the academics, including those of the Cavendish Laboratory, and some of the antics of students. As part of the tour we stopped at the Eagle Inn which was a significant watering hole for many British and American air force personnel during WW2. The interior walls and ceiling are covered in graffiti and labels placed by visitors representing many aviation organisations, especially those with military backgrounds. We were honoured to be granted permission to add a graffito commemorating the BMPA visit.
The walk ended at the Real Tennis Club where we watched a match from the glass-fronted gallery.
On Saturday afternoon, we proceeded to Fen Ditton where we were guests of the Valente family, close friend of one of our members. Here we enjoyed drinks and canapes in warm sunshine on the banks of the river Cam – an event enjoyed by all.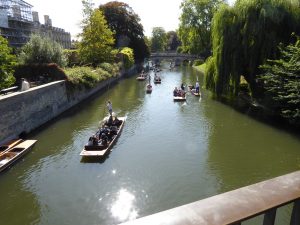 On return to our hotel and after changing for the forthcoming black-tie dinner, we embarked on a flotilla of punts and, with glasses of prosecco in hand, we sailed along the river to the Riverside Restaurant. Our meal there was cooked and served to perfection, a perfect end to an enjoyable day.
Sunday again dawned warm and sunny and, after the AGM when Jonathan Brown was installed as President, we made our way to Anglesey Abbey and Lode Mill, a National Trust property only a few miles from Cambridge. The Abbey was originally built in the 12th Century but was largely replaced by the 17th Century manor house. Its contents are now mostly those of Lord Fairhaven who lived there in the early 20th Century and who developed the magnificent gardens. There is also a working water mill in the grounds.
Altogether a most enjoyable and memorable weekend.